Michel Fingesten – (1889 – 1941)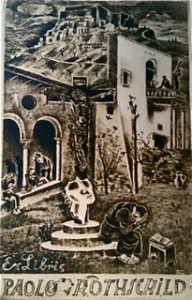 Michel Fingesten, beloved in Berlin, then ground into holocaust dust, was almost forgotten.  Now being dusted off a century later,1 Fingesten is re- revealed as one of the greatest artists of the twenty century.  Fingesten, like Picasso, has a delicate sense of balance.  Unlike Picasso, Fingesten had two ears listening to drums beating, wider eyes of the world, and a wider range to express all.
Fingesten's sense of balance, humor, irony, biting political criticism, was delivered in a lusty horny perverted irretractable package, wrapped in satire and humanity.   Fingesten employed themes of death and eros, served on a yin yang platter, poking at the flesh of brutality of the realpolitik fascist avalanche.  Flying penises, kinky woman, and obliging corpses helped Fingesten ring warning bells of the coming calamity of war.
Fingesten's menu for the 1939 Milan International Peace Conference, "Death is Ready to Serve it's Smelling Dish" mocks the conference attendees.2  There will be no peace with Mussolini and Hitler romping through Europe.   The ticking time bomb of inevitability was destined to consume all those diners and Fingesten knew it.  The diners' best intentions for peace would not matter.  The artist's chilling spot on prophesy likewise could not snuff out the ticking time bomb of death.  It was offered up on a silver platter, and like a continent, Fingesten would soon be consumed. Norbert Nechwatal
Likewise, Fingensten's1939 "Can Can" done as Ex Libris and larger graphic shows death leading the dance, the storm troopers lock step in the dance of death in line as far as the eye can see.  That horizon of death claimed that glorious Jew as well.  Liberation did not come quickly enough to the Italian concentration camp Ferramonti-Tarsia for Fingesten.34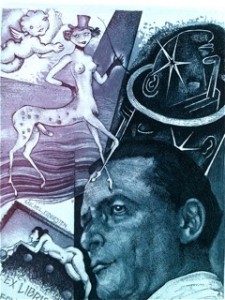 Michel was born in Bohemia (Buczkowitz) on May 18, 1884.  By age 16, a young Michel was already training at the Vienna Academy. What a mench.
By age 18, around 1902, Fingesten's Goddess given talent got him a gig with the satirical magazine "Der liebe Augustin"   It was a good time to be a Bohemian at the turn of the twentieth century.
Wanderlust as a sailor brings Fingesten to America, just in time to enjoy the great San Francisco Earthquake and fire.  By 1908, sources claim Fingesten the sailor was transferred to Australia, then East Asia.  Maybe lost in translation, or lost still in the sea of years, but 1907 is also stated to be when Fingesten studied at the Munich Academy as a pupil of Franz Von Stuck.
By 1913, Fingesten had found a home in Berlin and as a member of the New Secession.  By 1914 Fingesten began to turn away from painting, instead immersing himself in print making.5.]  Fingesten was a darling of Berlin.  His "meteoric rise" in Berlin offered many opportunities to grow and flourish and he did.
Life the adventure led to new topics in Fingesten's work.  "Rubbing shoulders with the Berlin satirist Rudolph Heinrich Zille (1858 – 1929) who drew everyday people, sharpened Fingesten's eye for human suffering" [cite] ("Spelunkenbilder").   Fingesten's circle of greats was great, including also Oscar Kokoschka. When it was time to chose sides a few years later, Fingesten was inside the outside group of degenerative artists and was branded with that scarlet letter also.
The years in Berlin were prolific years for Fingesten.  His output included free graphics, folios and etchings for bibliophile editions.  Fingesten's works of this period included "Improvisation to Arno timber, tinsmiths," 1917; "mothers", poems by Rudolf Leonhard, 1920; Adolf Weissmann, the sounding garden, 1921. Also during 1917 – 1919, Fingesten worked on the art magazine "Marsyas."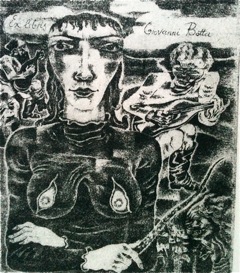 This author does not know if the auction house Galerie Bassenge thought it was tongue and cheek when it described why Fingesten left Berlin in the late 1920's.   According to its 2010 auction catalog: "Limited job opportunities during the early Nazi era led to a stronger shift to bookplates and occasional graphics." 6   If hyperbole has an opposite, we found it.  It would be safe to say that one effect of Hitler's rise was limited job opportunities for a freak glorious wonderful pervert Jewish satirical artist.
Another take was provided by N.H. Ott in his Fingesten review for World Art 20, October 15, 1985.  Ott opined that Fingesten's work, often perceived as a contradiction between his two general themes erotic and criticism against violence and war, "resolves itself when one considers" that both themes are "politically explosive" and that Fingesten's "erotic images" are "a revolt against the bourgeois sense of shame."   Other commentators see not a contradiction, but "women as a symbol of beauty" as "counterpart of death."  [cite].
Michel fled Germany in 1935, with his son Peter Fingesten (1916 – 1987) for Milan, Italy. 7  Mussolini's Italy allowed for 5 very creative years, before the fascists would snuff out another beacon of humanity.  It is during this time period, in Italy, before interment to concentration camps in southern Italy, that Michel turned out his most biting commentary, and his most erotic and taboo ex libris.  Michel and Peter, along with the publisher L. F. Bolaffi founded in 1936 the modern artist Exlibrisverein Italy.8 Fingesten also founded and directed the "Gruppoitaliano dell 'Exlibris Bianco e Nero."  [cite auction house cite].  Michel died on October 8, 1943, just weeks after his September 14, 1943 freedom, released by the Allied liberation of the Cerisano Concentration Camp at Cosenza.9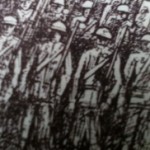 Literature:
A. Norbert Nechwatal, Michel Fingesten, The graphic work, Coburg 1984
B. Exhibition catalog, "The Unknown Michel Fingesten", Jewish Museum in Prague, 2008
C. Ernst Deeken, bookplates by Michel Fingesten. Attempt a preliminary list of works, Wiesbaden 2000